AMT Boats
The AMT boats are as Finnish as they come, both designed and manufactured by Finnish professionals at two modern Finnish factories. AMT was the first boat brand to receive the "key flag" award by the Association for Finnish Work in recognition of the domestic origin of the products. At the two factories in Kontiolahti in the Northern Karelia region, up to 1 600 boats are built every year.
AMT is also a significant exporter selling boats abroad in e.g. Sweden, Norway, Russia, Denmark, Estonia and the UK.
Ever since AMT boats were first introduced, AMT boats have been extremely successful in product tests and comparisons conducted by both Finnish and International boating magazines.
Three words sum up the basic concept of the AMT boats:
Driveability – the performance provided by four-stroke outboard engines and the maneuverability of the boats have been rankes excellen in several tests by boat magazines.
Comfort – the design of the boats' details incorporates solutions that increase the comfort level of the driver and passengers. The equipment standard of the boats is second to none in each size class.
Safety – all design builds on unyielding safety. The boats incorporate a unique "safely to shore" construction that makes them unsinkable as well as other structural safety features.
AMT Boats on social media:
Videos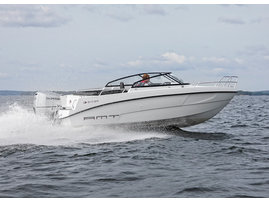 Gallery